If you like these pictures, then Order Here
MW5 - The Drenched Holiday Program - 120 minutes

MW5 is now available on

The video is hosted by Louise L'Amour Hodges, with reports from Lisa James in Florida and England; Donna Stephenson in Gran Canaria; Sammy Jane and Michelle Rose in Menorca, Spain; Jenny Stephenson in Almeria, Spain; Rachel Stevens and Helen Hartley in Lanzarote; Elisabeth Darcy in England; and Louise herself in Tunisia and England. Each scene is introduced with her wearing one of 12 different wet outfits!
---

We begin with Louise sitting beside the pool already drenched in a white sleeveless dress and no bra, as she introduces ...
Donna who enjoys wetting her denim jeans and white, long sleeve mesh sweater and high heels in a public water park. The sweater goes transparent and then it and the jeans come off revealing a rather revealing see-through black bra and panties.











---

Back at her indoor pool, in a blue and red print dress, again drenched, Louise introduces ...
Sammy and Michelle on the rocks in Menorca. Michelle wears a red plaid dress and the ever popular Sammy, a white dress. They have a great time climbing on the rocks and frolicking in the warm water.











---

For the next link, wearing a tight, clingy red cotton long-sleeve top and green denim jeans at poolside, Louise introduces ...
herself eating an ice cream cone or rather letting it melt all over her black billowy dress, hose, and heels. After making a mess of the ice cream on a public beach in England she walks into the surf under the pier to wash off. While thoroughly soaking the dress and rolling in the surf, she reveals purple panties and a teddy.
[ PICTURES OF LOUISE TO COME]
---
Back at poolside, this time, wearing a greeny-blue dress and white hose, our host tells us about ...
Lisa James enjoying the English countryside. She's wearing a white wrap, and pink and white polka dot dress. Finding a small creek, she accidentally drops her purse in the water and then falls in trying to retrieve the purse. The dress looks very nice and is then taken off to revealing white lingerie including Victorian-style bloomers.
[ PICTURES OF LISA JAMES TO COME]
---

Now wearing a skimpy wet top, and saturated peach skirt Louise invites us to join ...
Helen in her villa grounds who decides to douse herself with a garden hose wearing a short red slip and white and red print cover-up. The slip looks really great as the water flows over it highlighting Helen's ample figure.
[ PICTURES OF HELEN TO COME]
---

Climbing out of the pool in a yellow overcoat, purple dress, hose, and heels Louise introduces ...
Jenny frolicking in the surf in a light blue shirt, white ruffled skirt, and black bustier. Jenny is a like a breath of fresh air a really tight, well proportioned body and a lot of enthusiasm.
[ PICTURES OF JENNY TO COME]
---

Louise is in her full bridesmaid outfit, and is drenched! She introduces ...
Donna wearing a dark blue formal business suit, white blouse, black hose and heels into an outdoor fun-complex pool. Once wet, the jacket comes off, leaving her skirt and shirt for a swim, then a strip under the poolside shower.
[ PICTURES OF DONNA TO COME]
---

Louise, in the bath this time in dark blue black polka dot victorian style underwear with matching socks, introduces ...
Elisabeth a pretty brunette, on the beach wearing a peach dress, and black pantyhose going for a romp in the surf.
[ PICTURES OF ELISABETH TO COME]
---

After another wet interlude by Louise this time in a silver and black metallic dress and pantyhose ...
Louise is then seen in Tunisia in a yellow print dress, black pantyhose and heels. She enters the pool complete with purse. The dress really hugs Louise's curves as she frolics in the pool. An elderly couple in the background just ignore Louise as she removes her dress! (I think she should check his pulse to make sure he's still breathing.)
[ PICTURES OF LOUISE TO COME]
---

Louise, soaked in her blue jeans and cream vest, then swings us over to ...
Helen and Rachele on the beach wearing billowy dresses Helen in white and Rachel in blue, and loving the warm water.
[ PICTURES OF HELEN AND RACHEL TO COME]
---

Under the shower in a clingy flowery print dress our host sends us to Florida to watch the final report...
Lisa James entering the pool wearing a black dress, black hose and heels, and black gloves. The gloves and dress really look great here, the dress really accentuating Lisa's curvaceous body.
[ PICTURES OF LISA JAMES TO COME]
---

At this point you may be a bit disappointed at not seeing more of Louise's great outfits in the pool ... so wearing a white nightslip in the atmospherically lit pool, she shows us what she did ...
The remaining 35 mins of the video are devoted to seeing the 11 outfits, as there wasn't room for the last shower scene, getting drenched in rapid succession...
---















---














---
















---

















---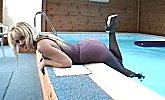 ---












---











---














---












---














---














---
Back to Sunsplash Main Page