WG1 - Louise's Wet Guide to Tunisia - 60 minutes
---
Introduced by, and starring the inimitable Miss Louise "L'Amour" Hodges, this Wet Clothed video documents her trip to Tunisia, North Africa.
---
Louise begins her holiday at the Sheraton Hotel. She is eager to have a drink and a dip in the water. Luckily there is a bar in the pool. She is perfectly attired for the occasion in a purple silk skirt, white blouse and beige waistcoat. She walks slowly down the steps into the pool and fully immerses her fully clothed body before proceeding to the bar, where she has an orange juice (laced with something no doubt). We then follow her as she steps slowly from the pool and walks past all the other guests in the gardens, letting her wet skirt flap about behind her. Arriving at the beach bar, she strips to her pretty pink underwear, white stockings and silver shoes, before showering off.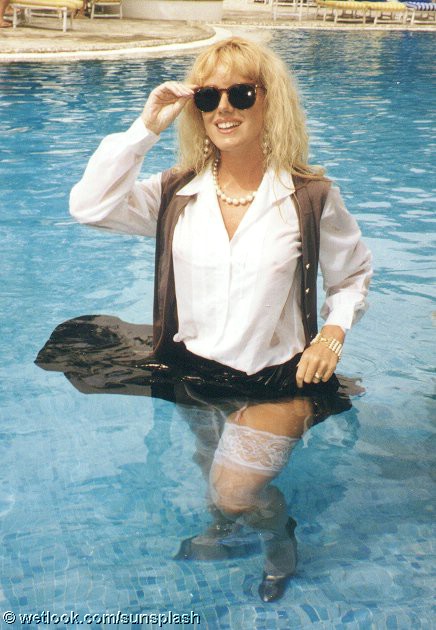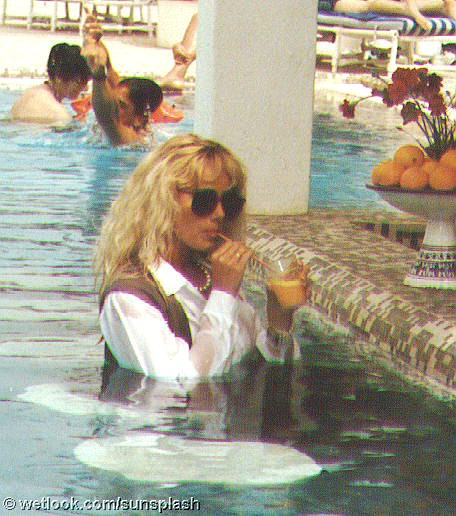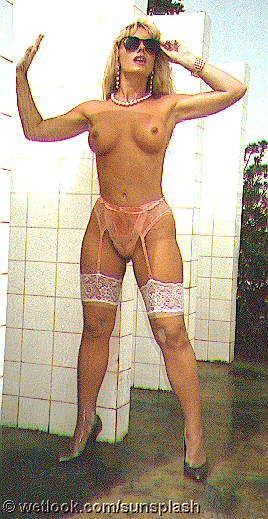 ---
Next it's off to the beach, casually dressed in blue jeans and a pretty white, long sleeved cotton top over a black bra. She runs into the sea and larks about, eventually falling over. After playing in the very warm water, showing off her glistening denim, she strips to her undies and wanders off.
---
After her camel ride, Louise realises just how smelly it has made her. She takes a quick dip in a small pool, wearing a very sexy shammy-leather bikini before putting her white blouse and red crinkle skirt on and sitting down for a drink. By the time the waiter arrives with the drink, the wet costume is showing through. She stands up and finds that the back of her skirt is completely soaked. Hum, she thinks, it's time to get wet properly and she treats us to a very nice soaking in the small pool. The bikini top is soon removed from under the blouse, allowing her nipples to show through the thin material. She then plays with a small jet of water in the pool.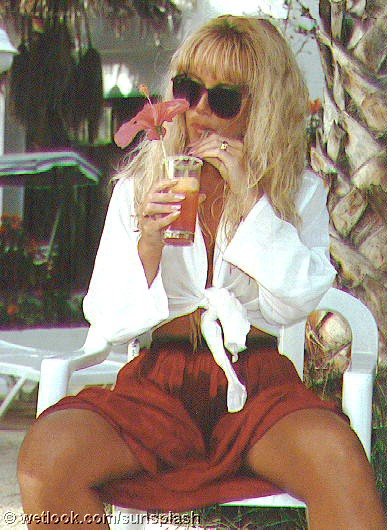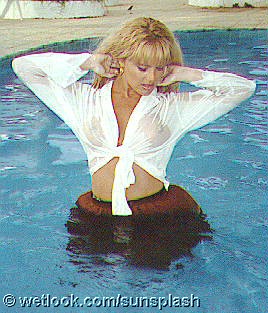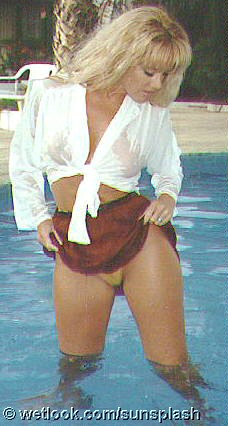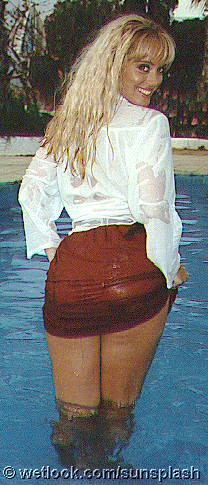 ---
All dressed up for the evening, Louise comes across a delightful indoor pool. She walks down the steps into the clear water wearing a short black evening dress, black stockings, suspenders and gold trimmed knickers. She relaxes in the water before retracing her steps out of the pool and removing her dress.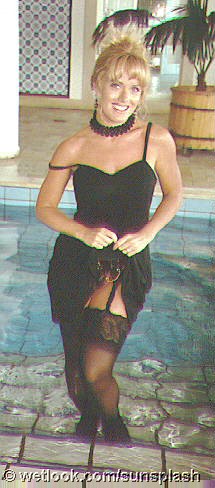 ---
After partying all night, Louise falls asleep in a hotel lounge and is rudely awoken by a member of the hotel staff. She has slept the night in her white button-fronted cotton dress. It's early in the morning so she goes outside for a peaceful dip in the sloped pool. After a while she finds a more secluded pool and unbuttons the front of her dress.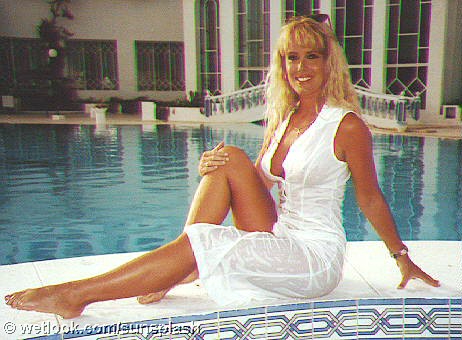 ---
The video also features a montage of other soakings, and is introduced by Louise who is soaking in a large bath, wearing grey leggins, pink socks and a purple jacket over some of her designer underwear from Harrods. After the scenes, she peels all her clothes off.
---