WG2- Louise's Wet State - 80 minutes
---
Announcing the release of the second in the series of Wet Travel Guides. This time Miss L'Amour is in Florida. Louise treats us by soaking 9 great outfits in this 80 minute video. The scenes are punctuated by interruptions from MudDonna and her friend Tracey.
---
Louise begins her surprise trip with a splash in the surf at Cocoa Beach, by Cape Canaveral. She's wearing a white jacket and ra-ra skirt, along with full underwear, white stockings , white shoes and a handbag!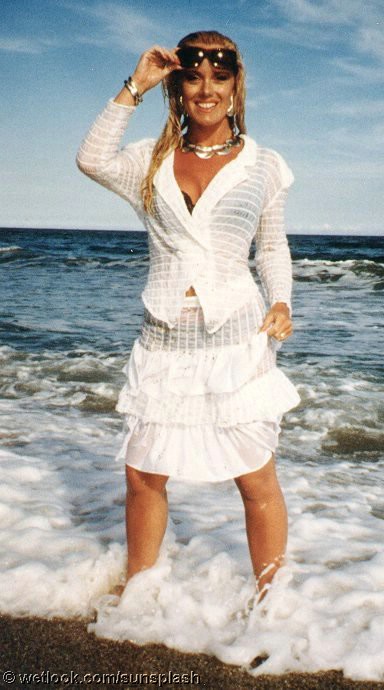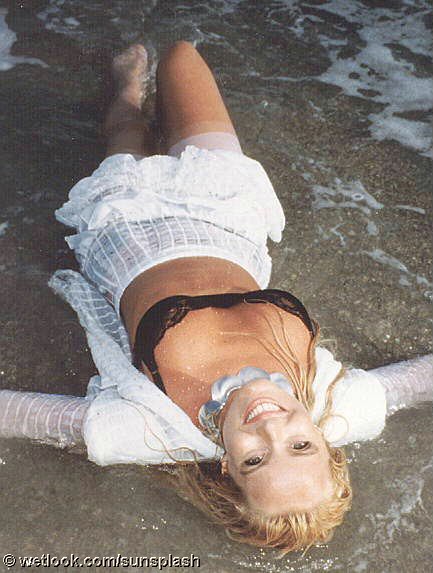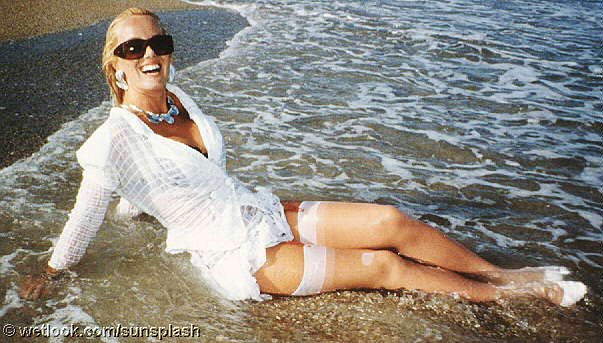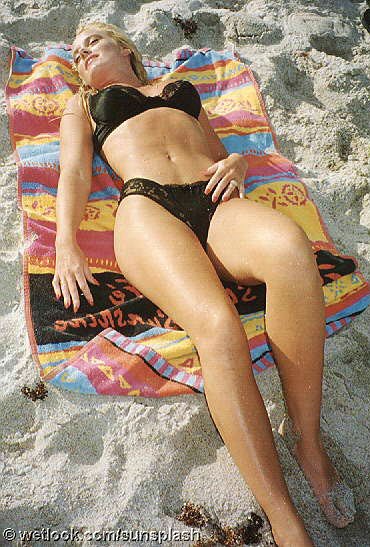 ---
Next we find Louise in bed, in a sexy purple negligee, she has a quick shower still in her nightwear, then dons a matching gown to show us her delightful pool.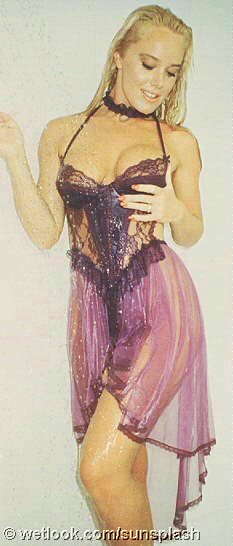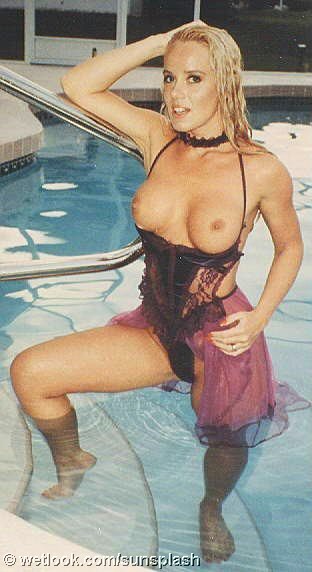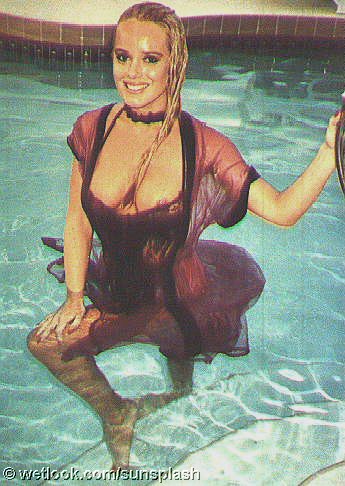 ---
Wearing blue levi jeans, a stretchy white Morgan blouse, with no bra underneath, and black heels, Louise is relaxing by the pool. To cool down she dips her feet, still in the heels, into the pool. It feels so good, with the wet shoes and her jeans gleaming up to her thighs that she soon lowers herself into the refreshing water. After walking around the pool with her jeans completely soaked, she leans backwards, wetting her blouse and her hair. After playing with her breasts though the wet material, she strips off the clingy blouse in the water revealing her lovely wet boobs, then steps out, peels her jeans off and finally teases her knickers off before jumping back in the pool naked.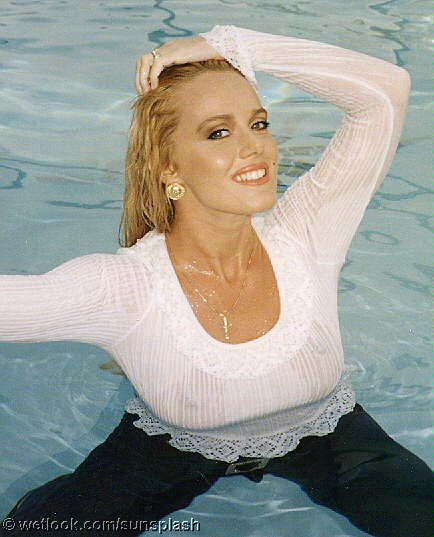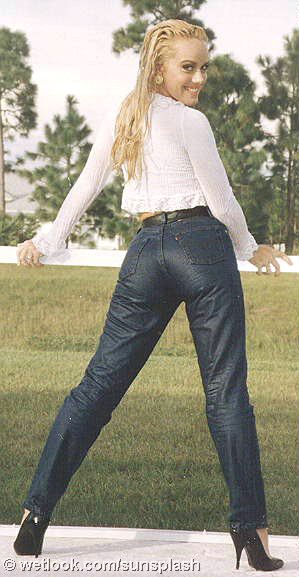 ---
Off to Key Largo for a day out. Of course Louise has not brought her swimming costume with her (in fact she never uses it!). Instead, when she decides that it's time to cool off, she runs into the warm sea in her ankle length brown dress. After she has totally soaked her clothes, she removes the dress, to show off her pinkie-orange bra and knickers, against the beautiful blue water.
---
Being a superstar and in America, Louise decides that she should make an exercise video. She starts off in the lounge, but is soon bored and takes to the pool, slowly immersing her black lycra leggins and yellow cotton leotard for some gleaming wet movements. She takes a quick break and changes into a blue cotton leotard over black and white cotton leggins. After drinking from a bottle of water, she exuberantly pours the remaining liquid over her front before dancing down the steps into the pool again. After some very close-up camera work, she strips off in the pool.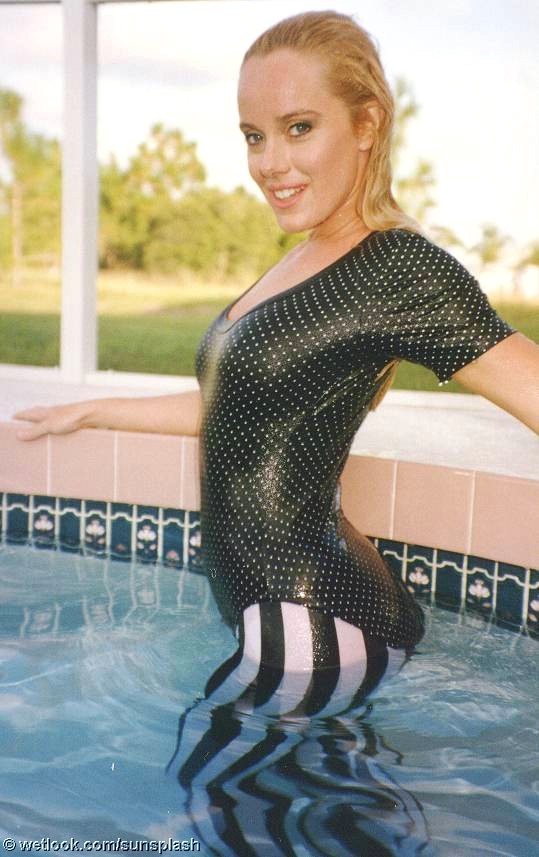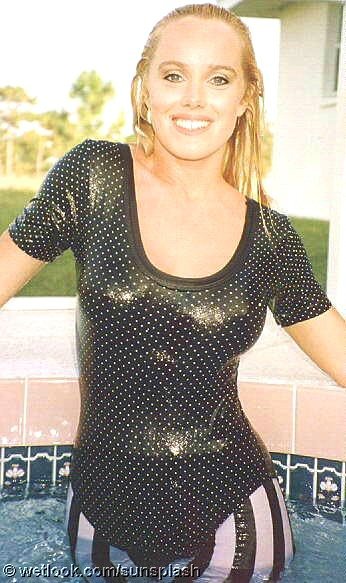 ---
Louise dons a skirt again, this time it's an orange, calf-length, ribbed one, over black panties with a brown ribbed vest, shoes and no bra. She takes her time entering the pool. She bobs up and down savouring the advance of the dry to wet demarcation as it heads up towards her erogenous zones, and takes great pleasure in soaking her orange evening gloves. Every moment her outfit is becoming wetter and she loves it. There are some great erotic close-ups and a full strip from her dripping wet clothing once out of the water.
---
Down at her local beach, Louise is wearing her black Levi's and a white blouse over a green wonderbra and matching knickers. She is soon completely drenched by the waves, and just loves them breaking over her. The glistening jeans and blouse are removed for a good look at her soaked bra and panties.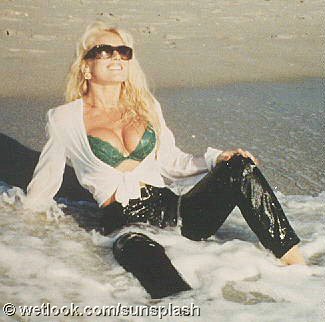 ---
The final scene in Key West features her in white stockings, with the rest of her outfit blue: matching blue bra, knickers and suspender belt, blue shoes and a knee-length blue dress. She's annoyed that her pool man has not been keeping the leaves out of the pool, so she steps down to retrieve some of them. The skirt of her dress floats out beautifully on the surface of the water, while her panties underneath are now soaked and feel wonderful. She comes back out half wet and sits at the side of the pool for a moment before deciding (surprise, surprise) to get her outfit completely saturated. She gets out dripping wet and has a quick swirl to let the heavy material of the dress fly outwards. Getting back in, she takes the dress off, then pulls her bra down to show her nipples before playing very suggestively with the handrail on the steps. Returning to her bathroom, now in just her dripping underwear, she showers and strips off her remaining wet garments.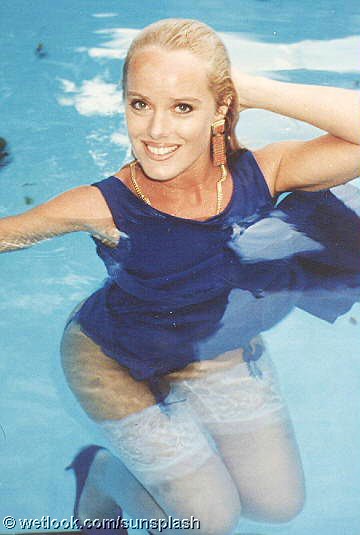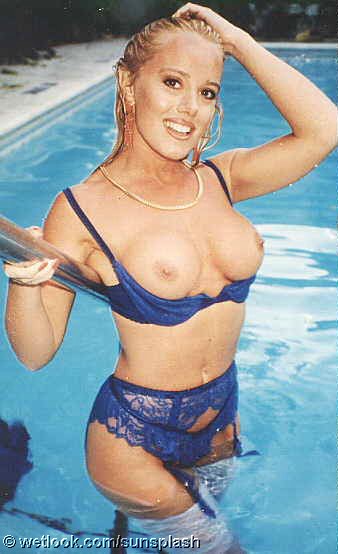 ---
The scenes are linked together by brief visits to MudDonna, first tempting us with some rather melted ice cream, and then with her friend Tracey, larking about, throwing buckets of water over each other, before ending up in the bath together. Originally, only Donna was supposed to be in the scenes, but Tracey decided that she wanted to join in, just in the T-shirt and ski-pants that she was wearing!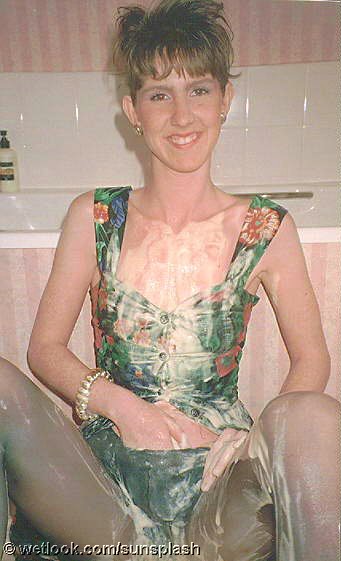 ---