---
MW3 - Wet Daze - 90 minutes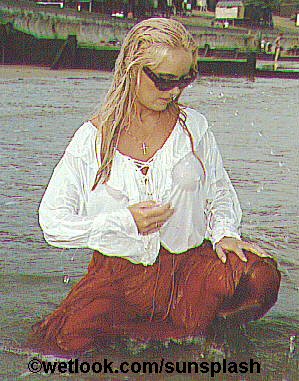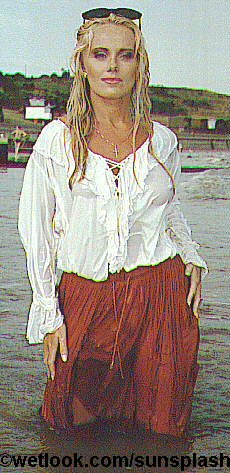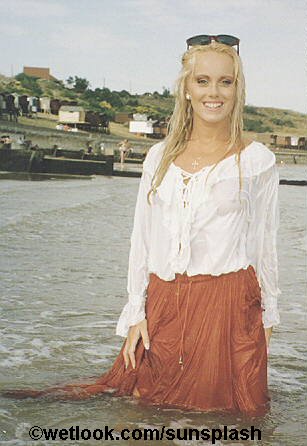 Welcome to another mammoth collection of wet-clothed beauties. This 3rd modelled video features 13 soaking wet wenches in 12 varied scenes. We have 2 models new to Sunsplash and 4 brand new girls for you.
---
Louise L'Amour tours the lawn sprinklers of Venus Hotel in Tunisia, just loving the gleam of her black denim jeans and the attention from the many onlookers.
---
Donna is dressed to go out for the evening, but she's such a show-off and can't resist drenching her short black party-dress and hold-ups under the garden hose before performing a slow strip to reveal her fair skin.
---
Rebecca is a real-life splosher, seen candidly in "Girls Just Want to Get Wet". Here, with her Asian friend Leona, wearing dark skirts and tops, they frolic at the beach. They were enjoying themselves so much that when the Summer rain arrived, they just carried on!
---
Ellie fills her paddling pool on a hot summer's day and decides to shock the neighbours by sitting in it wearing a very shiny T-shirt, shorts and black high heels.
---
The morning after a party, Sammy Jane finds a chair submerged in the pool. She sinks slowly down the steps, her cotton nightwear floating on the surface before becoming saturated. She soon pulls Michelle Rose in as well. Her silky slip and gown stick like glue
and she revels in the feel of her saturated nightwear.
---
After seeing the English girls having such fun wetting their clothing, West Indian girl, Cheryl decided she would like a go. Wearing a flowery skirt and long sleeved top she splashes herself thoroughly from the bath, before getting in. She loved the sensuous feeling of the wet clothing against her glistening black skin.
---
Donna and Jenny return to the villa in Spain after their hire car breaks down. They discover that they had left the bath running, and the overflow is now showering water onto the red soil. They are both very hot in their jeans and take great pleasure in cooling off
under the water before stripping down to their panties.
---
Rachel and Sarah have fun in the woods. They were supposed to be looking for a shoe that Sarah had lost on a previous visit to the muddy pond. However, these girls didn't need much of an excuse to get their skirts soaked and muddy. They have hysterics when Rachel's skirt
rips open at the back.
---
Michelle Jones has a thorough dowsing in the Welsh sea. She sneaked away from a party for a pee. After accidentally wetting her dress, she drunkenly stumbles into the sea and finds it most invigorating, as her nipples reflect!
---
Leona's Mum, Nina fancied a dip as well, and walked straight into the sea still wearing her red and white striped dress.
---
Sammy Jane has been lazing in the villa's garden. Walking back she finds a refreshing water jet by the pool where she can soak her blue jeans and flash her lovely boobs, before having a fully-clothed swim.
---
Back in England, Louise is now hooked on wearing wet clothing and she plays in the sea wearing a very revealing white blouse, red crinkle skirt, sandals and white socks. After a while she removes the bra allowing her very ample breasts to be clearly seen through the sopping material.
---