If you like these pictures, then Order Here
Sunsplash proudly announces its first modelled fully clothed wetlook video. You may have bought modelled videos before and been disappointed, but not this time. We use top models and freshly discovered water nymphs in exotic and interesting locations. No dull, boring scenes, this 93 minute video will leave you breathless. Filmed in the lush surroundings of Menorca and the fine Welsh and Yorkshire countrysides.
In all there are 12 scenes of fully clothed girls getting wet. Party dresses, jeans, silky pyjamas, flowing dresses, business wear, all getting completely soaked before your eyes.
(Most images are small VidCaps, those with large border are photos)
---
Samantha Jane and Michelle Rose arrive at their villa wearing jeans. It's been a long, hot trip and Michelle can't resist the water in the pool. At first she just dips her feet, wetting the bottom of her jeans, but when she realises how lovely the water is, she is soon bobbing up and down, wetting the whole of her jeans and then slowly soaking her breasts. She soon persuades Sammy to walk down the steps in the pool to join her.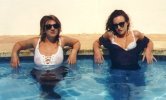 ---
Michelle Jones is sitting on a rock at the beach, when suddenly a deludge of water arrives, drenching her black and white dress...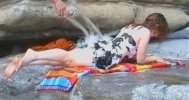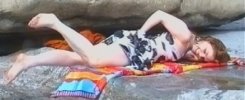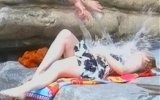 ---
Rachel is wearing a short white top and skirt, and takes a slow dip in the bath, also soaking her bra and panites.





---
Early morning, and Michelle is on the beach, still drinking from a party the night before. Wearing a silky purple dress she paddles about and gets completely soaked in the waves. Sam turns up, in a white cotton dress, and is pursuaded to have a dip too. Michelle strips to reveal her full underwear and petticoat while larking about with Sam in the warm water.















---
Meanwhile in Yorkshire, Rachel is off to an interview in her pin-striped skirt and white blouse. Sarah, in blue jeans, is attempting to drive, but manages to crash the car. They try to walk to a phone box, but have trouble with a short cut through a river. Rachel and Sarah are confirmed sploshers and you can clearly see they are just loving the lark about in the water.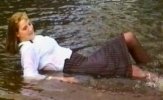 ---
Party time in Menorca. Sam and Michelle are dancing on the roof, under a sudden shower. Both are wearing short, cheeky party frocks. After seeing each dance for a few minutes, Sammy helps Michelle to peel off her black dress to pose in her red bodice and stockings.













---
Gypsy, Michelle Jones, is washing some of her clothes in a beautiful Welsh river when she slips in. She is wearing a thin black skirt, mauve blouse and head scarf and brown boots. Now that she's wet she wrings the washing out over her blouse, revealing her black bra. She then has a has a good swim before ripping off her sodden top.













---
Sammy is dressed to go out, in a long red dress, but has dropped her neckless in the pool. Michelle, the villa rep arrives, smartly dressed in a grey skirt suit, with all the trimmings. She tries to retrieve the neckless, but Sammy is annoyed with her, and they have a huge water fight with the garden hoses. Both of them end up in the pool, of course, Sammy eventually strips to show off her pretty camisole.
















---
Michelle Jones is relaxing in a field, when another duludge of water suddenly soaks her thin green dress...








---
Returning from the river, Rachel changes into her blue jeans, but then decides that she engoyed getting wet, so runs upstairs to have a shower. The water soaks beautifully into her jeans and white T-shirt.




---
Sammy is wearing a white flowery dress, and wanders out to the pool, there is a jet of water 'leaking' upwards, and she naughtily stand over it. The water rushes straigh up her dress, saturating her panties. She loves this, and slowly dances, getting her outfit wet from the inside outwards.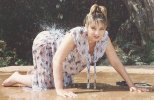 ---
The final scene is a sensuous shower dance. Michelle Rose found a lovely olive tree in the garden, which some careless gardener had left a hose in. Michelle is ready for bed, in her silky short pyjamas but first decides to soap herself down in the setting sunshine. Very atmospheric.












Back to Sunsplash Main Page