20th December 2008: All scenes on this video are downloadable now from the

18th May 2008: New Hi-Res Preview Video available.
13th Feb 2008: This video is now shipping in

format as well as

This page contains 214 thumbnails, please be patient!
The 10th video from Minx is here, with 16 girls, all getting deliciously wet in their clothing for your enjoyment on this full 2 hour video.

---

1 It's a hot day in the Algarve, and Anne Marie wants to cool off in the pool. First she dips in her black heels, then splashes water onto the top of her white cotton dress revealing her ample breasts beneath. Walking down the steps, she soaks her black lacy tights and then her white translucent knickers and finally her whole dress. There are some underwater swimming shots, and then she strips right off to just her shoes.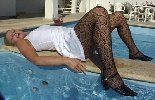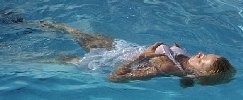 ---

2 Naughty girl Jo Hobbs is stoned, and is up for anything as she steps into the shower, fully clothed in her tight blue jeans and red top. She loves every minute of her dowsing. Her jeans glisten as they take up the water, and wet patches form on her top. The water is soon seeping through to soak her bra, as she shows us, repeatedly. After a thorough wetting and very soapy wash, the clothes are sensuously removed.












---

3 Karen and Claudia have been out clubbing, and on their return, decide to cool off with a night-time dip. They dance straight into the pool, soaking their short dresses and heels. The scene is dimly lit, but very atmospheric and erotic. After caressing each other's saturated clothing they remove their dresses and continue dancing.







---

4 Elisabeth is having a quiet smoke in the conservatory before changing for a dip in her play pool, when she drops her cigarette on her yellow dress. She grabs a jug of water to put it out, then as she's already wet, she steps straight into the pool in her day clothes. Her shoes and tights are soaked immediately, quickly followed by her cute bottom as she sits in the warm water. After soaking her dress completely, she has great fun ripping her clothing apart. Her tights and dress are soon in shreds, followed by her white top beneath, leaving just her pretty bra and panties.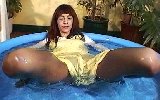 ---

5 Louise is wandering by the pool, wearing her best white jeans and a designer blouse. There is a jet of water from the garden and she dances in it, slowly drenching herself before walking down into the pool, to complete her soaking. Relishing her tight wet outfit she plays about then removes her top layer to show off her sheer black bra, knickers and stockings that were saturated beneath.

















---

6 Donna takes a stroll around a water park in Gran Canaria, then carelessly, falls into the pool. She is shocked but enjoys the feeling of her wet skirt and tight brown top. Her heels are soon removed, as well as her sunglasses. After swimming and playing with her wet clothing, with lots of people about, she strips off her top, and then the skirt, to reveal her one-piece lacy white body beneath. Jumping about, she even manages to expose her breasts, much to the amazement of the onlookers.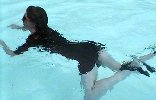 ---

7 Lisa James has just got in from a sweaty day at the office. She's wearing a neat, tight red dress, with full underwear. To relax, she puts her legs into the bathtub, and turns on the shower hose to cool down her feet, still inside her black heels. The feeling is nice, and she runs the spray up her stockings, and up under her dress. Her knickers are soon soaking wet, and she continues to spray over her top, the red dress getting marked with patches of dark, wet material. Removing her shoes, she stands, and soaks her bottom, and then her top completely. She really enjoys the soaking, playing with her breasts and crotch many times, and watching herself in the large mirror behind the camera. She has a long soapy shower, pulling down her knickers after a while, and later her dress.


















---

8 This was the first time that Sarah ever got her clothes wet, and from her face and her body you can see just how much she enjoys it. First she pours a large jug of water down inside her peach jacket, soaking it, the matching short skirt, and her white underwear. Getting down into the pool fully clothed for the first time is a great thrill, and it's smiles all over as the water completely engulfs her clothing and her excited body. Coming up the steps we see every inch of her as the outfit has stuck completely. After savouring the feeling, she slowly undresses to reveal her white bodice and side-tied panties, which are also sexily removed, leaving her standing in just her white stockings and heels.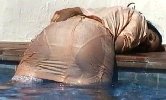 ---

9 Lucy is full of life, and really shows it off in this scene. She begins by dipping her white heels into the pool, wetting her white stockings as well. Then she starts lifting her sodden shoes above her head, letting the water cascade down her stockings, and onto the crotch of her thin white panties, and the skirt of her short white dress. It's not long before she's dipping right in, soaking the rest of clothes and her bra. She lazes about on the side, then dips in the whirlpool before stripping to her now very see-though undies!

















---

10 Heavily breasted Helen and Rachel are playing badminton, but they're not very good. The shuttlecock is soon in the pool, and when Helen tries to recover it, her short tennis dress is quickly soaked as she topples down the steep underwater slope. She manages to pull Rachel in too, wetting her pleated skirt and letting her stiff nipples poke through her soaked white, cropped T-shirt. Rachel's sneakers and long blue socks are soaked too, but Helen removed her sandals, and only wet her small white socks. The girls seem to like their drenching, and continue playing their game, very wet! It lands in the water again, and they end up back in the pool, and after some larking about, they undress and soak up the sun.












---

11 Liz is enjoying the sun by the hotel pool. There is a boat in the pool, and she manages to get on it with only her heels getting wet, and the ends of her faded black jeans. Lying in the boat, she feels naughty, and starts splashing water up onto her thick brown sweatshirt. At first the water simply runs off, but soon it is soaking into the material, and through to her shiny lycra top beneath, which she shows off, and wets directly. The smile on her face shows that some of the water has also made it's way down inside her jeans to her panties, and is penetrating her crotch. It time to get soaked, so she dives in, for an underwater swimming sequence, followed by some very drenched top side shots as she displays her soaked sweatshirt and jeans. Then it's back underwater for a strip. First the top comes off, revealing again her cute stretch top with her nipples poking through. When the jeans are removed, her red lacy knickers are shown off to great effect.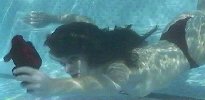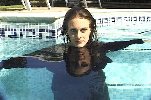 ---

12 Vicky, Lisa Volenté and Lisa Demontis are playing scrabble. Lisa V is cheating too much, and the other two eventually decide that she needs to be taught a lesson, and chuck her in the pool. Her red blouse and medium length grey skirt are instantly soaked through, and underneath, the water has penetrated her short slip, white bodice, tights and panties. She's very sorry, and pretends to make up with the others, but manages to push them both in instead! Vicky is wearing a sheer white top over a pretty bra and a short black skirt. Lisa D is wearing tight stretch pants in white, and a thick clingy top. Both are immediately drenched, and chase their naughty friend, all ending the pool again. After a few dunks underwater, they all make up, and have a smoke on the side of the pool, admiring the wet outfits before helping each other strip off in the water.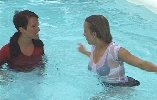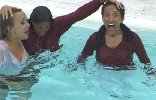 13 Louise wears a short button-fronted denim dress over a white long-sleeved top, and a black lace body for a stroll in the hot forest. Luckily she finds a cold water tap, with a hose, and cools down her hot feet, while they are still inside her sneakers. Then she runs the water up her legs, loving the refreshing feeling as the cool water goes up under her dress, and strikes the gusset of her body. "That's just what I need all over", she thinks, and proceeds to slowly drench her whole outfit, first the skirt of her dress, then the top. The water is directed inside, to ensure her breasts are given a good soaking, then she stands up to give her bottom a good wet rub down. Stripping off in the woods is exciting, and she can hear people walking past nearby...


















---