The 6th video from Minx follows Vicky and Sarah as they travel to the Songkran Water Festival in Thailand. During the 1 hour 56 minute video, they visit spectacular waterfalls, wash an elephant, and take part in huge waterfights in the street. In addition to hundreds of wet Thai girls in the streets, we also feature 4 wacky Thai girls Ong, Farr, Doon and Darwan (all girls are over 18).
1 In the first scene, Sarah and Vicky have just arrived, they are staying at the top business hotel. It's refined atmosphere contrasts greatly with the wet mayhem they encounter when they venture out, wearing thin white dresses. In the town centre they are soon soaked to the skin by a barrage of water buckets and pistols. They underwear and more is clearly visible as they lark about before a quick ride home to jump in the shower.









---
2 Next they venture off into the jungle, and come across some local girls playing in the waterfalls (all the locals bathe in their clothes). Sarah and Vicky soon get under the streaming water, soaking their jeans and tops. They have great fun sliding down the rapids in their drenched clothing.







---
3 They decide to head back to more civilised surroundings. At the hotel pool, they slowly immerse themselves, water seeping through their newly bought skirts and white tops, giving that very pleasant feeling as it enters their underwear.







---
4 Wearing a couple of smart dresses from the market the evening before. They visit a golden temple where a procession is starting. They are hot, and want to get wet, so they head out to the throng, where their tight cotton dresses are quickly saturated. Now it's time to get their revenge, and head off to soak everyone in sight. On return to the hotel, they strip off, have a cigarette, then a fondle in the shower. Extra Pictures






---
5 The girls relax to watch TV. We see a 'cultural show' with Ong and Doon jumping in the bath in their tight, flared jeans and sexy tops. They are joined by Farr and Darwan, similarly attired, for a sexy 4 girl romp in the large bathtub. They finish by stripping of all their soaking wet clothes.








---
6 Sarah and Vicky are excited by this, and decide to both wear short skirts to watch the next parade. This has the desired effect, and they are soaked repeatedly by the locals. The girls soon get their own back, both on the crowd, and the girls in the parade. Extra Pictures







---
7 It's time for an elephant ride through the jungle, after which they want to reward the poor elephant with a wash down. They are wearing black jeans and vests, with no bras. They are quickly drenched of course, much to their delight, and the onlookers.




---
8 At the end of a long day, the girls relax in the restaurant, having far too much to drink. Back in their room, Sarah falls into the bath, dowsing her long blue dress, after cracking up with laughter, she manages to pull Vicky in soaking her long dress also. In their drunken state, Sarah washes Vicky's hair, then moves on to her breasts, covering them in shampoo foam. Vicky returns the favour, both girls massaging their boobs. The outlines of their stockings and suspender belts are very visible as they soap up each others bottoms. They then hike up their skirts to admire each others dripping panties, and Sarah then starts putting her head between Vicky's legs...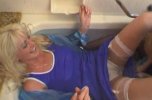 ---
9 We're back to the crazy Thai girls again. They start off rolling around on the huge bed, then head off one at a time to the very posh, multi-head, shower. Ong and Darwan are wearing sexy skirts and Doon wears a very short dress, each with stockings or tights. The girls all end up in the bath for a sexy fondle.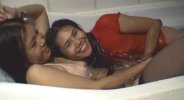 ---
10 The final scene is back at the Songkran. The girls are wearing their black jeans this time, which glisten wonderfully in the brilliant sunshine as they quickly take up the gallons of water directed at them. They return fire, and soak many a dress and jeans. Extra Pictures