19th November 2009: All scenes on this video are downloadable now from the

22nd Jan 2007: This video is now shipping in

format as well as

There are almost 300 picures for the scenes on this page, so they are loaded on separate pages. Remember, they are all video grabs from the video, with reduced resolution to speed downloading.
---
The 11th video is hotter and wetter than ever before, more relaxed rules on adult videos allow us to turn the girls up to full blast! Enjoy this full 2 hour video.
---

1. Lucy admires the view from her balcony, then proceeds to soak her thin top and short skirt with jugs of water. Her top immediately sticks to her large breasts and her nipples show straight through. She proceeds to soak her backside with some nice up-skirt shots before she strips off.
---


2. Louise is enjoying the heat in Ibiza, but she's overdressed, so has a cooling dip in her pool, slowly submerging her blue jeans then her beige cardigan. Having no bra on she is able to massage her well-formed breasts and give us some lovely rear shots before removing her jeans and exposing her chest.
---


3. Jo and Anne-Marie are both spies after top-secret negatives. After struggling together, they both fall into the pool in their smart business suits. The struggle continues in the water, until they discover the negatives were a decoy. They are both enjoying their wet outfits, and begin to lark about, and become very intimate. Both have on smart jackets and skirts, with stockings and panty-girdles underneath. The soggy clothes are slowly discarded, as the girls continue to play with each other.
---


4. Liz is dressed for clubbing in a very short pink plastic dress. She wants to cool off in the outdoor shower, and does so, using a newspaper to keep her hair dry initially. Her lacy white knickers are soon dripping wet, and her platform shoes soaked as well. After a good shower dance, she strips right off.
---


5. Fleur takes a walk on the beach, wearing her faded blue jeans and a little cotton top. She wanders into the waves, immediately saturating her sandals, and begins to get her jeans wet. Liking the feeling, she dips herself down in the waves to savour the wet feeling on her backside, and in her panties. Kneeling down, she deliberately splashes water all over her thin blue top, which instantly reveals her pert breasts. After playing in the waves, she removes her top, and then finally her jeans.
---


6. Claudia is our naughty schoolgirl. She is eating an ice cream by the side of the pool, wearing a white top, short pleated-skirt and fishnet stockings. She's in a giggly mood, and dips her shoes in the pool to see how it feels. Enjoying it so far, she kneels down in the water, flashing her pink lacy panties before immersing them in the warm water. Her skirt is soon soaking wet, shortly followed by her top, the wet material showing her lacy bra beneath. She bobs and swims around, with some underwater shots, then removes her bra from under her top, letting the wet top cling to every curve of her huge breasts and erect nipples. This is followed by a slow strip and lots of giggles.
---


7. Wearing a sheer, knee-length white slip, with just white panties and hold-ups, Angie is dancing merrily around the garden, singing to herself. The day is very hot, and the water sprinklers on the lawn are too tempting. She steps towards one, wetting her white high-heels, and her stockings. The temperature is good, and she adores the sensation. Dancing closer, the spray works it's way up her legs, saturating the bottom of her skirt, and going up to her crotch. She turns to soak her bottom, letting her panties show even more clearly through the dress, then slowly lowers her excited breasts into the spray. Her dark skin accentuates the complete sheerness of the drenched material. Next she heads off to the pool for a quick swim, still wearing her shoes. We get some lovely crotch and backside shots as she pulls herself up on the side, before removing her knickers for a final dip, and float on her back before stripping right off.
---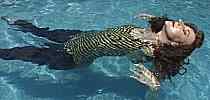 8. Karen is exercising in her dark grey leggings and stripy leotard, to spice up her routine, she's arranged a hose spraying onto the outside steps, and proceeds with her press-ups wetting her leotard and breasts. The water is soon running down into her crotch, and she turns around to do some sit-ups and soak herself even more. She jogs down into the pool, still wearing her tennis shoes and after a refreshing swim, slowly strips off.
---


9. Donna is late back, and Jenny wants to wash the car before she goes out. Donna isn't very helpful, and is soon throwing water over the back of Jenny's black skirt and over her zip-up vest. Jenny soon retaliates, soaking Donna's blue skirt and white blouse. The hose comes out, and they start to enjoy hosing each other as well as the car. Donna shows off her wet stockings, and her lacy knickers and bra. Then the girls strip to just their soggy panties.
---


10. Jo is relaxing by the pool, wearing her blue jeans and a thin black top, through which her white cotton bra is already visible. As she's so hot, she loves it when Vicky turns up and slowly pours large glasses of water over her jeans, soaking each leg, and her crotch. Rolling over we can se some water has run around the crease of her bottom. After a thorough soaking, it's Vicky's turn to cool off, and her bottom is the first thing Jo wets, Vicky's white jeans immediately turn a creamy colour on her arse where the water is splashing. Jo gives her a good soaking, and the girls then move into the pool, enjoying a swim, some nice fondles, and lots of foot sucking, still wearing their pop-socks. The girls strip to their bras underwater, then slowly peel off all their clothes to end with a romp on the sun bed.
---


11. Helen and Rachel are dressed up, but fancied a paddle at the rocky beach. Their stockings are quickly dripping wet, and they sit on a couple of almost submerged rocks, wetting their skirts, thighs, backsides, and their crotches. The girls are having fun, and inevitably decide for a full dip. They lay back in the shallow water soaking their light blouses and the one-piece bodies beneath. Helens nipples show through the wet stretchy material beautifully before their strip to their underwear.
---